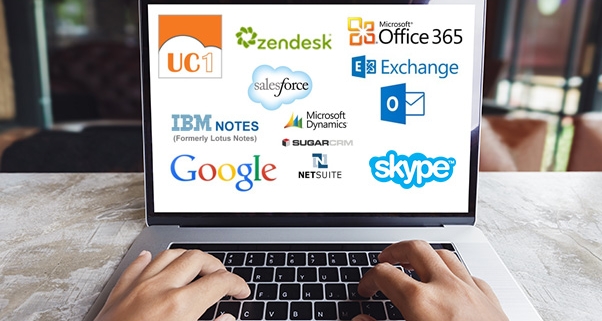 Why Your Business Phone System Should Integrate with Your Applications
The technology you use in the office should enhance your ability to do business.  That's what technology does!  Yet, the same technology that helped you serve clients better just a short 5 or 10 years ago can just as easily hinder your staff's ability to work as fast or effectively as you need them to, as your customers expect them to and, unfortunately, as some of your competitors already do today.
If you're using an older business phone system, it could be slowing your company down in ways that aren't always easy to see.
Phone systems like Mitel Connect ONSITE allow you to seamlessly integrate your communications systems with your business and customer applications.  This integration shaves time off simple tasks like retrieving customer information, routing inbound callers to the right person, and placing full customer records on your employees' screen as a new call connects.  Features such as these can not only make your employees more productive, but also get the customer's experience off to a great start.
Enriched Customer Experience
When customers contact your business, what kind of experience are they getting? If you're relying on older systems, they're undoubtedly having a disconnected, frustrating experience.
With a basic phone system in place, it's easy to assume that all is well as long as you have a dial tone.  But today's communications need to go beyond that.  Are your customers often bounced from one representative to the next, hoping to find the right person to solve their problem?  Do they end up repeating their issues to each new person who comes on the line, and face lengthy hold times while the new representative accesses their information all over again?  This once state-of-the-art phone system is now inhibiting your ability to support customers in the manner to which they've become accustom, and that your competitors most likely provide.
But it doesn't have to be this way.  If you integrate your phone system with your CRM tool and communications tools, you can access professional contact center features that are natively integrated with your Mitel Connect ONSITE solution, delivering a better customer experience.
Enhanced Worker Productivity
As businesses like yours try to do more with fewer workers, it's imperative to minimize disruptions and make the workflow more seamless.  With an older phone system, the work environment can be disruptive and confusing.  Customers are easily routed to the wrong department, getting more frustrated as they repeat their information to multiple agents.  Employees may have to switch between multiple screens or devices, or manually input or copy data to accomplish repetitive tasks. Seconds lost to those tasks add up to hours and days — even weeks — over the course of a full year.
A modern communications system like Mitel Connect ONSITE gives workers the ability to merge their phone into their applications. As a result, instead of navigating multiple windows, they can access the phone system features from within applications, like their CRM, using an intuitive interface.
If your business uses Skype for Business to manage video chats, instant messaging and desktop sharing, but it's all separate from your phone system, a Mitel Connect ONSITE solution can merge those applications so that with the click of a button, you're connected and using all the features of your phone system from within the Skype application.  When you leverage a business communications system that integrates with your applications, like Mitel Connect ONSITE, you provide a technology-enriched communications system that allows your workers to work better together and gives your customers a smooth, seamless experience.
Does your phone system create a positive customer experience?  We can help.  Contact us at sales@paralleltech.com.
https://www.paralleltech.com/wp-content/uploads/Business-Apps.jpg
430
602
lsalvato
https://www.paralleltech.com/wp-content/uploads/Parallel-Technologies-Logo-Navy-BPT-Larger-300x98.png
lsalvato
2018-11-28 10:33:52
2020-10-09 11:09:29
Why Your Business Phone System Should Integrate with Your Applications