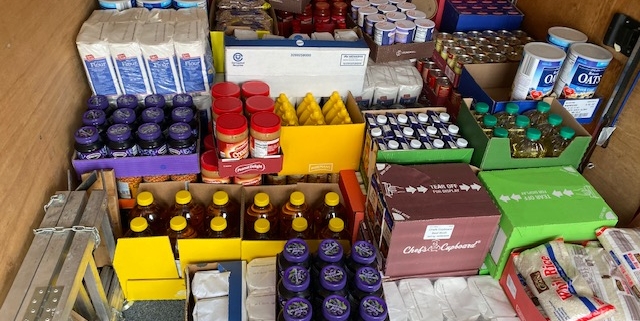 Though it's been a years-long tradition, the last post about Parallel Technologies' annual "Food Fight" food drive was in 2016. That year, the Cincinnati and Dublin offices together donated a total of 3,126 pounds of food to local food banks.
Parallel's annual "Food Fight" competition between both offices has been a yearly tradition during the months of November and December to encourage employees to bring food donations in each week. The office that brings in the most donations receives the honorary Food Fight plaque, and, in recent years, management at the office with the least donations has had to endure more than simply a loss – 2018 was a pie in the face, and 2019 was embarrassing costumes.
We're proud to share that three years since our last update on this initiative, Parallel's year-end giving effort is stronger than ever, with the company more than doubling that of the 2016 donation, with a combined total of over 6,500 pounds of food donated in 2019. Instead of simply measuring the pounds donated per location, the winning office is now determined by number of pounds of food donated per person at each location. Below are this year's stats:
– Cincinnati is the winner with 2,377 pounds in total; 170 pounds per employee
– Dublin collected 4,235, coming in at 156 pounds per employee
The food was donated to the Faith Hope Mission Food Pantry in Johnstown, OH and Our Daily Bread Soup Kitchen in Cincinnati, OH.
Parallel would like to thank Kim Jackson and Karrie White of the Dublin and Cincinnati offices for leading the Food Fight initiative over the past several years, as well as its employees for their commitments to giving back to our Ohio communities through this and many other personal initiatives.
https://www.paralleltech.com/wp-content/uploads/IMG_0609.jpg
480
640
lsalvato
https://www.paralleltech.com/wp-content/uploads/Parallel-Tech-EmployeeOwned_small-300x121.jpg
lsalvato
2019-12-20 15:56:37
2020-10-09 11:02:40
Parallel Technologies Offices Donate Over 6,500 Pounds of Food in Annual "Food Fight"