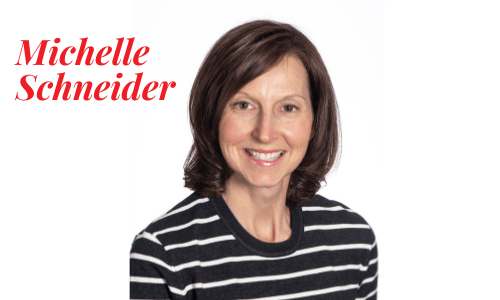 Employee Owner Spotlight – Michelle Schneider
What motivates you to wake up and go to work?
Everyone wants to feel part of something. I love using my skills – which is being hyper-organized – helping my fellow co-workers work day go better.
What Parallel customer do you think everyone should visit?
The Columbus Foundation. They are a portal for all charities. I think every person can spare time to do something for a charity or some sort of community service. It's important to give back to the communities where we live and work.
What has been your favorite project at Parallel?
I actually used to do project management many years ago. I enjoyed being onsite with customers and making their install go more smoothly. Even if it was helping a receptionist with transferring calls or helping with call routing and handling – it felt great to help.
What was your first job?
Knaps Carryout in Coldwater OH. I worked in the kitchen making pizzas!
What's something most people don't know about you?
I'm afraid of bears. I enjoy being outside and hiking, often in bear and mountain lion country, but I am deathly afraid of bears and mountain lions. The bear spray is always on my hip!
If you could choose anyone, who would you choose to be your mentor?
I like Michelle Obama. I read her book Becoming, and I like that she came from a very simple, humble background. I felt like I had a similar upbringing, that I came from a loving family and both my parents were very hard working, and instilled a work ethic in me. She worked hard and is well educated, and went on to do great things. I think she's a great role model for anybody.
Ten years ago, where did you think you would be right now?
Raising our children, preparing them for graduating from high school, starting college and adult life. That my husband and I would start preparing for life without kids.
What is your favorite past time?
Live music. Being outside. Trying new restaurants or new food.
What's your favorite restaurant at the moment?
Lindey's in German Village. It's an intimate setting, and the food is superior. It's an anniversary dinner kind of place. Upscale, great service. My favorite dish is the crab cakes.
What is the one thing you cannot resist?
Peanut butter or a good glass of red wine.
What was your first concert?
Mike and the Mechanics, at the Ohio State Fair with my mother as a kid.
https://www.paralleltech.com/wp-content/uploads/Michelle-Schneider.png
300
500
lsalvato
https://www.paralleltech.com/wp-content/uploads/Parallel-Technologies-Logo-Navy-BPT-Larger-300x98.png
lsalvato
2021-12-09 09:58:16
2021-12-09 10:10:24
Employee Owner Spotlight – Michelle Schneider